Should you rent or buy a home? There are many variables to consider when making this very important life decision. You can use the calculator below as one tool for comparing the advantages and disadvantages of owning vs. renting.
In addition, New Millennium Realty Professionals can discuss in depth with you the factors you should consider before making this major decision.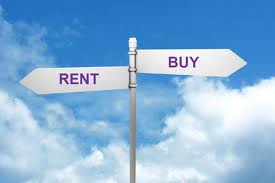 Buy vs. Rent Comparison:
The chart below shows a cost comparison for a renter and a homeowner over a seven year period.
The renter starts out paying $800 per month with annual increases of 5% The homeowner purchases a home for $110,000 and pays a monthly mortgage of $1,000
After 6 years, the homeowner's payment is lower than the renter's monthly payment
With the tax savings of homeownership, the homeowner's payment is less than the rental payment after 3 years
Source: Ginnie Mae, (ginniemae.gov).
At New Millennium Realty we can also provide you a personalized rent vs buy report. Our agents are here to answer any questions you may have about the buying process. Our Agents: